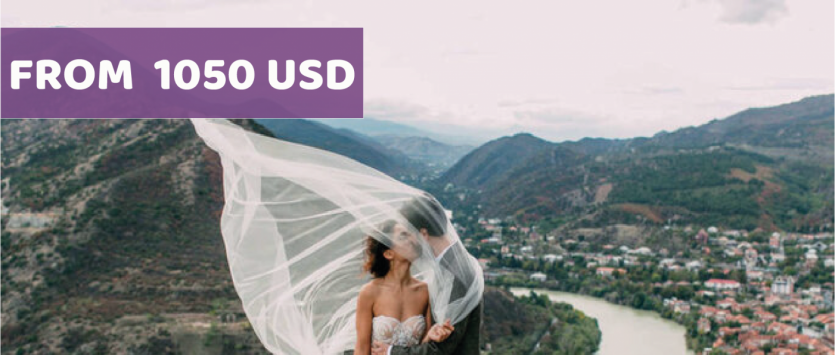 Mtskheta is an ancient capital of Georgia. It is situated 20 km away from Tbilisi at the junction of rivers Mtkvari and Aragvi. It was capital of Georgia
from 4th century B.C. to 5th century A.D.
Old part of the town, Svetitskhoveli Cathedral and Jvari Monastery are together in the list of UNESCO world heritage sites.
Mtskheta is nestled in a broad depression on the banks of the Aragvi and Kura rivers which converge into a vibrant hue of rusty orange. The surrounding territory
is semi-arid with sweeping slopes and rolling hills ringed by rugged mountain ridges.
WEDDING PACKAGE "ROSE"
• Wedding paperwork (Documentation for the legal marriage, passports translation with notary approval,
appointment to the house of Justice,
providing 2 witnesses, registration of the marriage, legalization for UAE)
Ready documents to be hand overed in 2-3 working days
• Wedding organization and coordination
• Transfer to the wedding ceremony location
• Master of ceremony
• Wedding arch (You can choose your style
and colours)
• Bouquet for the bride
• Boutonniere for the groom
• Photographer
• Music
• A bottle of champaign

1050 USD
WEDDING PACKAGE "PEONY"



• Wedding paperwork (Documentation for the legal marriage, passports translation with
notary approval, appointment to the house of Justice,
providing 2 witnesses, registration of the marriage, legalization for UAE)
Ready documents to be hand overed in 2-3 working days
• Wedding organization
• Wedding coordinator for wedding day
• Transfer to the wedding ceremony location
• Make up and hair stylist for the bride
• Master of ceremony
• Wedding arch (You can choose your style
and colours)
• Bouquet for the bride
• Boutonniere for the groom
• Photographer
• Videographer (Movie clip of your wedding)
• Music
• A bottle of champaign

1 300 USD


WEDDING PACKAGE "ORCHID"
• Wedding paperwork (Documentation for the legal marriage, passports translation with
notary approval, appointment to the house of Justice,
providing 2 witnesses, registration of the marriage, legalization for UAE)
Ready documents to be hand overed in 2-3 working days
• Wedding organization
• Wedding coordinator for wedding day
• Transfer to the wedding ceremony location
• Make up and hair stylist for the bride
• Master of ceremony
• Wedding arch (You can choose your style
and colours)
• Bouquet for the bride
• Boutonniere for the groom
• Photographer
• Videographer (Movie clip of your wedding)
• Music
• Romantic dinner for couple
• One night stay at 4* hotel


1 550 USD