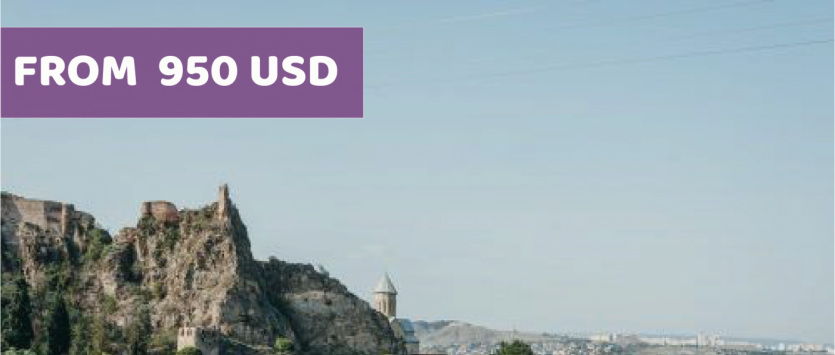 With chaotic yet charming cobblestone streets, dome-shaped bathhouses steaming with sulfuric waters, and crumbling Soviet factories repurposed as hipster hotels, Tbilisi is a study in contrasts. Capital of Georgia and the heart of the Caucasus, the city teems with riches: cathedrals that rise in the hills like layer cakes; hidden cafes bursting with bric-a-brac, and a bohemian art scene that is slowly peeling away the Soviet grit from this survivalist town to reveal a vibrant creative core. Conquered and reconquered for centuries, Tbilisi now wears its battle scars with pride. From its medieval fortress walls to its buzzing new luxury boutiques, this East-meets-West city offers something for everyone.
This place is truly magical for your upcoming wedding.
We offer you symbolic ceremony in the beautiful botanical garden of Tbilisi.

•

Wedding paperwork (

Documentation for the legal marriage, passports translation with notary approval,


appointment to the house of Justice,




providing 2 witnesses

, registration of the marriage, legalization for UAE)




Ready documents to be hand overed in 2-3 working days




•

Wedding organization and cordination


•

Transfer to the wedding ceremony location
•

Master of ceremony
•

Wedding arch (You can choose your style
and colours)
•

Bouquet for the bride
•

Boutonniere for the groom
•

Photographer
•

Music
•

A bottle of champaign
900 USD
WEDDING PACKAGE "PEONY"


•

Wedding paperwork (

Documentation for the legal marriage, passports translation with notary approval,


appointment to the house of Justice,




providing 2 witnesses

, registration of the marriage, legalization for UAE)




Ready documents to be hand overed in 2-3 working days




•

Wedding organization


•

Wedding coordinator for wedding day


•

Transfer to the wedding ceremony location


•

Make up and hair stylist for the bride


•

Master of ceremony


•

Wedding arch (You can choose your style
and colours)
• Bouquet for the bride
• Boutonniere for the groom
• Photographer
• Videographer (Movie clip of your wedding)
• Music
• A bottle of champaign

1 250 USD



WEDDING PACKAGE "ORCHID
"

• Wedding paperwork (Documentation for the legal marriage, passports translation with notary approval,
appointment to the house of Justice,
providing 2 witnesses, registration of the marriage, legalization for UAE)
Ready documents to be hand overed in 2-3 working days
• Wedding organization
• Wedding coordinator for wedding day
• Transfer to the wedding ceremony location
• Make up and hair stylist for the bride
• Master of ceremony
• Wedding arch (You can choose your style
and colours)
• Bouquet for the bride
• Boutonniere for the groom
• Photographer
• Videographer (Movie clip of your wedding)
• Music
• Romantic dinner for couple
• One night stay at 4* hotel